Introduction
The EOC-0102x-E are point-to-multipoint EoC (Ethernet over Coax) solution that efficiently extends 10/100 Ethernet circuits framework to Coaxial Networking LAN for Internet and Intranet access over 900 meters (2,952feet) at 192Mbps using existing coaxial wire. The EOC-0102x-E will allow Ethernet connectivity in existing facilities or homes without pulling extra cable. This is perfect solution for Ethernet on the factory floor where systems have been upgraded from slower serial communication to Ethernet networking. The EOC-0102 is used in Coaxial cable systems to extend Ethernet connectivity over existing CCTV/CATV grade Coaxial cable. The EOC-0102M-E is a master/bridge unit which will connect to multiple EOC-0102S-E subscriber units. The two port Ethernet switch (1 port LAN, 1 port Set Top Box) provides provisioning for port and tagged based VLAN, priority QOS and ingress/egress bandwidth limiting. Up to 60 subscriber units (EOC-0102S-E) may connect with one master EOC-0102M-E unit.
Features :
High-speed up to 224Mbps communications link over existing coaxial cable, Asymmetrical on EoC

192Mbps @up to 900 meters (2,952 feet), reach down to 64Mbps @about 1.2Km (4000 feet)

Operates transparently to high layer protocols such as TCP/IP

Auto-MDIX and auto-negotiation 10Base-T or 100Base-TX and Full or Half-Duplex on the Ethernet port

Plug and Play design for simple installation, single switch configuration

Status LEDs for simple monitoring of the device and connection status

SQoS Priority Mapping Support
Application
Extend LAN connectivity to a remote site or between buildings

Connect Ethernet to different Room over existing home Coaxial infrastructure

Connect new controller technology on the factory floor using existing wiring

Extend Ethernet connectivity from a backbone network to an isolated location via Coaxial cable

Transmit Video and traffic controller information over existing Coaxial cable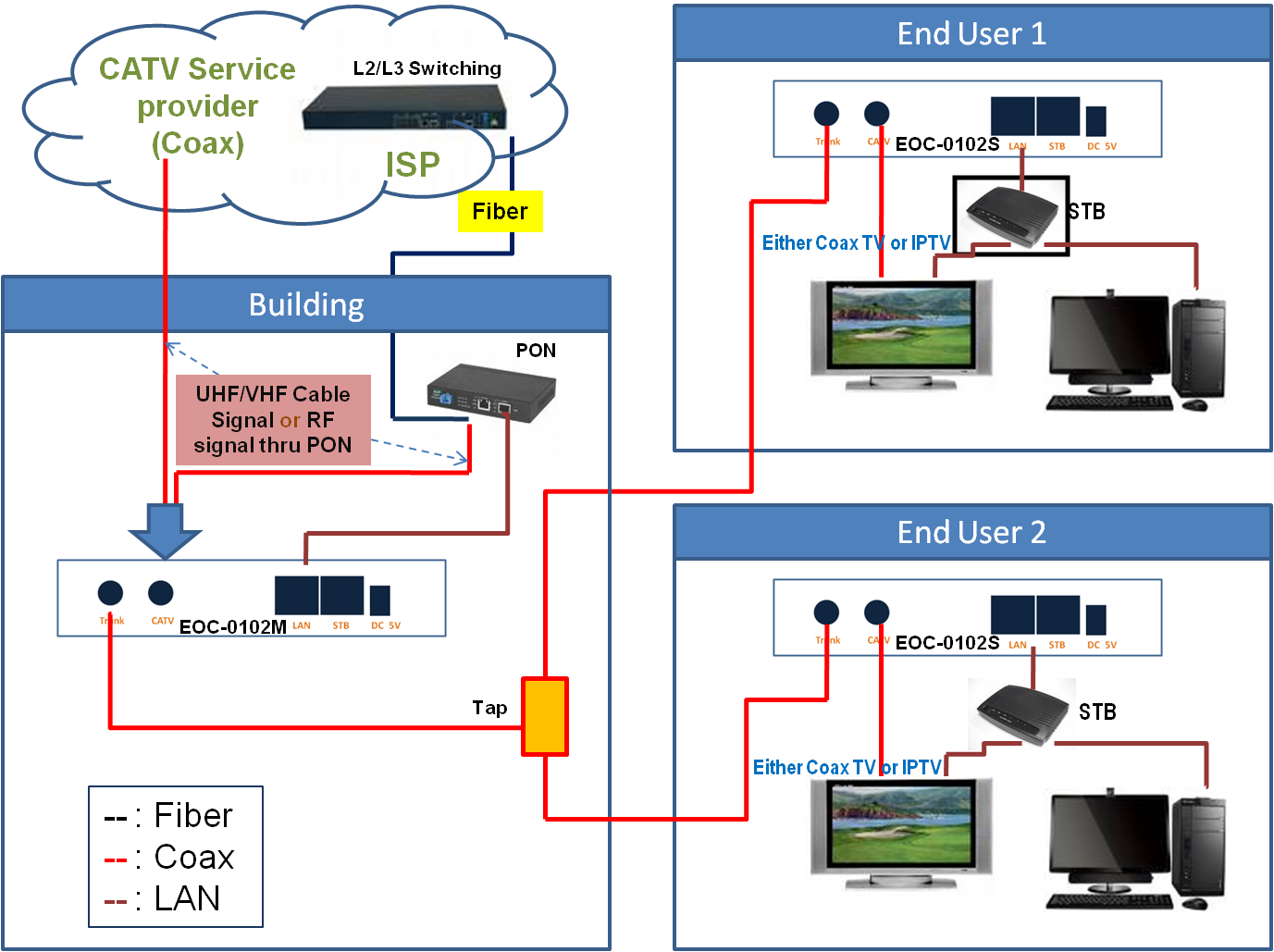 ​​

If there is any product information needed, please contact us or consult online.